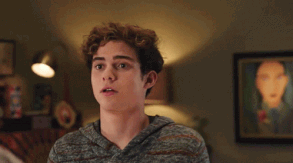 EP 1. INTRO
Nella walked into the principal's office.
"Please sit, Miss Anderson." Mr. Gutierrez said, motioning for Nella Anderson to sit. "It is so kind of you to choose East High as your professional learning environment."
"Mhm." Nella mumbles.
"Nella?" Mr. Gutierrez asked, seeing that she was looking out of the window at a fellow pupil by the name of Ricky Bowen.
"Oh, yes." Nella snaps herself out of the daze. "What did you say?"
"I was just thanking you-- er, nevermind. Here is your locker key--" He hands her a small, golden key. "You can ask… er, that young man to take you to your locker." Gutierrez points to Ricky. Nella's heart skips a beat.
Nella stands up and picks up her backpack. She exits the office and examines her locker key. She suddenly walks into a large figure.
"Ah!" Nella screamed as she closed her eyes and felt the hard marble ground on her back. She felt breath on her nose. She opened her eyes and saw a handsome young man.
"Sorry." Nella said, shyly.
"It's fine, I should have seen you." He said, helping her up.
"I'm Nelly or Nell or Nella." Nella stammered. "Call me anything you like. I was told to ask you to take me to my locker. Um, I'm a new kid."
"Okay." He said and they walked to locker 293 together. "So, you're a transfer kid?" he asked once they had gotten to the locker.
"Yup." Nella smiled. "England. How could you tell?" She laughed, knowing it was pretty obvious with her accent. Ricky laughed. What a gorgeous laugh. Nella slammed her locker shut, getting the laugh out of her ears.
"Good morning, students. Please make your way to the gym for our annual back-to-school kickoff." The voice sounded over the speakers lining the hall.
"Yelp." Nella said. "I gotta go." Ricky began to walk away. "Wait! What's your name?" She called.
"Ricky!" He yelled back as he broke into a run.
"Ricky." Nella mumbled, shutting her locker...
"And I am also pleased to announce that this year, seniors will be allowed to wear baseball hats on Fridays!" The short principal said through the mic once everyone had spilled into the auditorium.
"Go seniors!" Nella yelled. "No? Okay..."
"And now for a special introduction. This year, East High has a new drama teacher with an announcement that she swore, in writing, would not cost too much money." Gutierrez said as a blond and tall woman walked up to the podium.
"Why, Big Red? Why do things have to change?" Ricky mumbled to his friend, Big Red.
"Some things never change, dude." Big Red responded. "I've been wearing the same socks for three days." (Ricky carefully inched himself away from Big Red.)
"Please hold your applause. Go, Wildcats!" The lady at the podium yelled at the top of her lungs. Her name was Ms. Jenn. "Yeah. My name is Ms. Jenn, and when I heard that the high school where High School Musical was shot had never staged a production of High School Musical, the musical, I was shocked as an actress, inspired as a director, and triggered as a millennial."
Students looked shocked. She was not a millennial.
"Auditions are tomorrow after school. This show could change your lives, and I'm saying this as a background dancer from the original movie. Third from the left, back row, red headband, and those are my real teeth. So..." A young boy with glasses hopped up and grabbed the mic from Ms. Jenn "Oh, and meet your student choreographer, Carlos." She added
Community content is available under
CC-BY-SA
unless otherwise noted.