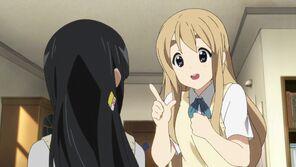 A Dewott Of A Battle! is the sixth episode of Full Moon's Full Pokemon Journey.
Summary
Tsumugi is challanged to a battle by Mami and her Flabebe, but as the battle progresses, Tsumugi doesn't know about the Fairy-type's weakness is. Will Tsumugi figure it out and win?
Characters
Mitsuki
Yui
Mio
Ritsu
Tsumugi
Azusa
Madoka
Mami
Ui
Jun
Pokemon
Lunatone (Mitsuki's)
Tepig (Mitsuki's)
Dewott (Tsumugi's)
Meowstic(male) (Madoka's)
Starly (Ritsu's)
Delcatty (Azusa's)
Flabebe (Mami's; debut)
Lillipup (Jun's)
Clefairy (Ui's)
Ralts (Mio's)
Major events
Tsumugi's Dewott learns Iron Tail.
Tsumugi battles Mami and wins, due to Dewott's Torrent ability activating.
Community content is available under
CC-BY-SA
unless otherwise noted.