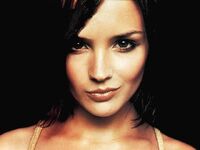 Alexis Perry now lives in Washington DC with her stepson Matt. Alexis, a former NYPD Gang Unit officer, has been hired to work as an agent for the Department of Defense's Paranormal Control and Investigation Program (PCI). Her slayer skills and knowledge make her the perfect person for the job.
Character Stats
Name: Alexis CJ Perry
Age: 23
Date of Birth: April 28, 1987
Species/Gender: Human (Female)
Former Job: NYPD Gang Task Force
Current Job: Department of Defense Special Forces Agent
Nationality: Caucasian/Native American
Appears: Season One
Kill Stats
Humans: 245
Slayers: 0
Vampires: 55,450,900
Spiritual Demons: 3.123 Billion
Biological Demons: 1.562 Million
Gods/gods/Devils: 20 (including Karolyktal)
Monsters: 1,338
Extraterrestrials: 0
Community content is available under
CC-BY-SA
unless otherwise noted.