"Wow, she's got a few bolts loose. "
—Ratchet
Angela Cross,
also refered to as
The Unknown Theif
was a
Lombax
who appeared in season 2 of
Ratchet and Clank: The televison series
, where she disguised herself as a masked theif for roughly the first half of the season. She is prone to having minor, clumsy accidents, such as tripping over rugs.

In a news brodcast in season 9, it was claimed that sometime after season 2 she went missing, fleeing from persecution by Emperor Tachyon. She had been fleeing the Cerullean Sector in Max Apogee's spaceship.
Employment
Angela used to work at Megacorp in the Bogon Galaxy in the Genetic Department. She worked on the original Protopet, but was kicked off the project after Megacorp decided to release the Protopet before its flaws could be corrected.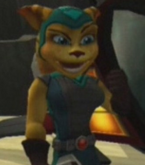 Theif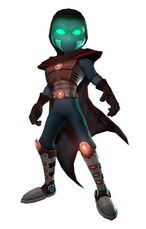 With the Protopet on the loose, Angela assumed the role as the theif, where she wore a mask intergrated with a voice-distorting device and a hooded cape. With this disguise, she stole the Protopet in hopes of obliterating it before it could be mass-produced. Following these events,
Abercrombie Fizzwidget
, owner of Megacorp, summoned
Ratchet
and
Clank
to retrive the experiment. Once Angela assumed the guise of the theif, she hired
Thugs-4-Less
for assistance in her ventures to retrive the Protopet (but later betrayed by them once they had a better Paying Employer.) After her first encounter with Ratchet, Angela temporaily aducted Clank from
his apartment
. However, Clank escaped and rejoined Ratchet. Later, on planet
Siberius
, Ratchet was able to defeat Angela and take hold of the Protopet, returning it to Fizzwidget. Later, Angela approached Ratchet on planet
Tabora
, demanding the experiment, not realizing that Ratchet didn't have it anymore. As the Theif, Angela served as the season's main antagonist for the first half of the season, until her true identity and intentions were revealed, and Qwark unmasked as the real main antagonist.
Unmasked
[[Image:|280px]]
Performer:
Kath Soucie
Appeared in:
Ratchet and Clank: The televison series
Age:
Unknown
Gender:
Female, but sounds like male.
Eye color:
Blue
Skin color:
Unknown
Favorite Show:
Unknown
Interests:
Destroying the protopet on a Asteroid Belt.
Family & Friends:
Unknown
Enemies:
Ratchet and Clank
Favorite Food:
Unknown
Species:
Unknown before Unmasked, but Lombax.
As she fell of her ship in Tabora, Angela's mask fell off and her true identity was revealed. She immediately informed
Ratchet
and
Clank
that the Protopet may ultimately doom the galaxy and joined the duo in hopes of warning Fizzwidget about the experiment's true potenial. She later sent a
Galactic Greeting
as a message to Ratchet and Clank, requesting help on her home planet,
Grelbin
, where the protopets had begun to infest her facility. Angela invented a
Helix-O-Morph
to control behaviour, when Qwark stole it to control the protopet himself. After Ratchet defeated the
Mutant Protopet
, she kissed Ratchet and Clank. She then demutated the Protopet and made it harmless.When she was in Clank's apartment; she told her friends that Qwark got a job at Megacorp.
Current Status
She was last seen fleeing space with Max Apogee from Tachyon's wrath.
Community content is available under
CC-BY-SA
unless otherwise noted.