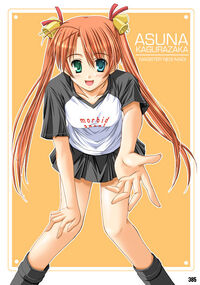 Asuna Kagurazaka is a character from Mahou Sensei Negima and is the love interest of Akai Tatsumaki, the lead character in Yu-Gi-Oh! Awakening of the Ancient Deity.
Bio
Deck
Her deck has no theme to it but its rarest card is Talons of Shurilane, Highest ATK Monster is Beastgod Machineking - Barbaros Ur
Relationship with Akai
So far, Akai and Asuna have meet up in Domino City.