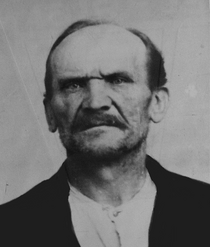 "Confessing is not easy"
- Carl Großmann 
Carl Großmann (December 13 1863 - July 5 1922) was a German serial killer and conman suspected of having murdered as many as fifty women in Berlin. He has gone down in history as one of the most ruthless killers in the history of Germany. It is said he was an isnpiration of Fritz Lang 's "M " but this is innacurate. 
Early Life
Carl Wilhelm Großmann was born on December 13 1863 in a slum in Berlin. It is suspected he was sexually assaulted by his father. He had sadistic desires. During his youth, he is known for having cooked and dismembered a living cat. 
Criminal Life 
During The First World War Großmann was sucesful selling meat at the black market claiming it was from caddle he slaughtered but it is believed it was the meat of his victims. During his lifetime he commited many roberries often armed with a pistol. After his death at least three women confirmed they were raped Großmann. On            August 21 1921 Police entered Großmann's appartment after reports from neighbours they heared someone screaming. When Policemen entered his appartment, they found Großmann in the process of battering a young woman severly with a wooden badding. He was arrested. 
Trail and Death
Carl Großmann confessed to having raped, battered to death, cut in pieces and sold the meat of as many as fifty women in twenty years. He said: "I may have killed many, many more but my memory leaves me." Only one other victim was found in the woods battered to death with a claw-hammer. He was convicted of twenty-four murders and sentenced to death. But before his sentence could be carried out prison-guards found Carl Großmann dead in his cell. He had commited suicide by hanging.
Aftermath
The case of Carl Großmann became one of the most infamous in German history. In 1931 it was assumed he was an inspiration to Fritz Lang for his classic film "M", however the true influence was Peter Kürten. In 2004 a book was written on Großmann entitled "The Beast of Schlesischen Bahnhof" by Horst Bozestky. In a German museum of the macabre, a wax statue in his likeness can be seen.
Gallery
See also: 
Community content is available under
CC-BY-SA
unless otherwise noted.