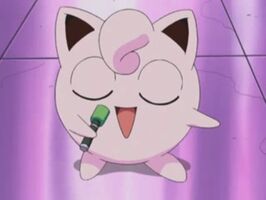 Dancing With Graceful Fairies is the eighteenth episode of Full Moon's Full Pokemon Journey.
Summary
Characters
Mitsuki
Yui
Mio
Ritsu
Tsumugi
Azusa
Madoka
Ui
Jun
Mami
Nodoka Miyazaki
Ash
Serena (debut)
Clemont (debut)
Bonnie (debut)
Pokemon
Pikachu (Ash's)
Noctowl (Ash's; Shiny)
Braixen (Serena's; debut)
Pancham (Serena's; debut)
Bunnelby (Clemont's; debut)
Chespin (Clemont's; debut)
Dedenne (Clemont's; debut)
Pignite (Mitsuki's)
Gardevoir (Nodoka's; Shiny; Mega Gardevoir)
Munchlax (Ritsu's; Drumsticks)
Starly (Ritsu's)
Dewott (Tsumugi's)
Vanillish (Tsumugi's)
Swadloon (Mio's)
Ralts (Mio's; evolves)
Kirlia (Mio's; newly evolved)
Wigglytuff (Yui's)
Gulpin (Yui's)
Clefable (Ui's)
Delcatty (Azusa's)
Meowstic(male) (Madoka's)
Floette (Mami's)
Jigglypuff (anime; debut)

Major events
Mio's Ralts evolves into Kirlia, and learns Attract.
Mio's Kirlia's gender is confirmed female as of this episode.
The Jigglypuff with the microphone reappears and sings its song.
Ash's Noctowl is revealed to have Insomnia for its ability.
Mitsuki, the Light Music Club, Madoka, Mami, Negi and Nodoka Miyazaki meet Serena, Clemont and Bonnie for the first time.
Community content is available under
CC-BY-SA
unless otherwise noted.