Yellow Diamond Beast Ranger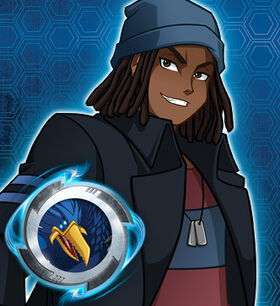 Name : Dax
Gender : Male
Season(s): Crystal Beasts
Color(s): Yellow 
Homeworld: Earth (current/birth planet)
First Appearance: "Light of the Gems"
Last Appearance: TBA
No. of Appearances: Ongoing
Voiced by: Keith Silverstein
Sentai Counterpart: Hachiken Yuugo
Dax is the Yellow Diamond Eagle Ranger (Yellow Diamond Beast Ranger) the Yellow Ranger of the Crystal Beast Rangers. He is the second-in-command of the team, and a former member of Team Core-Tech who used colossal monsters called Monsuno. Dax is shown to be a bad boy with a cocky attitude, but is shown to have a caring and merciful side. He didn't want to join the team, but managed to stay and help keep the team together when Keith is not around. He is the bearer of the Diamond Gem and his Gem Beast is the Eagle Diamondzord. His element is Lightning.
Personality
COMING SOON...
History
COMING SOON...
Yellow Diamond Beast Ranger
Ranger Gea
Weapons
Gem Beast
Powers/Abilities
See Also
Community content is available under
CC-BY-SA
unless otherwise noted.