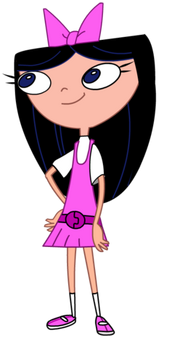 Isabella redirects here. For the Isabella with the nickname "Bell", see Isabella Tennyson.
---
Isabella is a character from Phineas and Ferb, but appears in Crackers or Wackers, Hollywood World, and Total Drama Popstar and guest starred in the Total Drama Cartoon-odeon episode Dan tour. It's a possibility that she'll appear in The Mighty Phineas. Isabella is friends with Phineas, Ferb, Buford, Baljeet, Duncan, Katie, Sadie and Bridgette. She is enemies with Courtney and possibly Teresa. Isabella is also a main character in Hollywood World. She also has a crush on Phineas. In the episode Travel to Sinnoh, Isabella is shown to have a rivalry with Barry, but some kind of friendship inbetween. She also consoled 5-year-old Bonnie Anderson when she was crying and weeping in Toy Story/Phineas and Ferb Crossover Fan Stories: Tiger Attacks Kill Eventually and Toy Story/Phineas and Ferb Crossover Fan Stories: Bonnie's Perfect Pet over the loss of her deceased loved 1s.
Pokemon
In Hollywood World and Full Moon's Full Pokemon Journey
On Hand
→ →
Cyndaquil → Quilava → Typhlosion

♂

→
Charmeleon → Charizard
→
Gabite → Garchomp

Jigglypuff

♀


Manaphy

Bulbasaur
With Professor Juniper
Given Away
In Pokemon Cartoons
Appearances
Season 1
Season 2
Season 3
Season 4
Community content is available under
CC-BY-SA
unless otherwise noted.