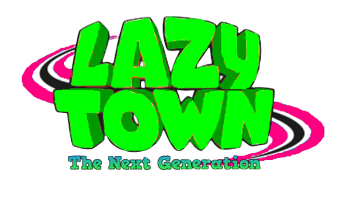 LazyTown: The Next Generation is also known for Series 5 & 6 Because it is split into 2 parts; Part 1: Stephanie's arc and Part 2: Valerie's arc. It takes place after The Mystery of The Pyramid which where Season 4 left off and LazyTown Shorts. Unlike The original series, Stephanie has superpowers (Super speed, Super Cyclone and Electricity), Sportacus can fly and Robbie Rotten Has dark magic (Except for the first episode and the prior series). The air date is unknown but it will most likely be on Universal Kids. As usual, Series 5 & 6 will have 13 episodes each with the first episode of Series 5 being a full 30 minute episode.
Actors & Actress
Stephanie - Angelica Hale
Sportacus - Magnus Scheving
Robbie Rotten - Justin Theroux (Replacing Stéfan Karl Stefánsson after demise)
Valerie - Kyary Pamyu Pamyu (Main Character in Season 6 Only)
Puppeteers
Stingy - Jodi Eichelberger
Pixel - Ronald Binion
Ziggy - Gudmundur Thor Karason
Trixie - Aymee Garcia
Mayor Milford Meanswell - David Matthew Feldman
Bessie Busybody - Julie Westwood
Episodes
Series 5
Series 6
TV Specials
LazyTown Extras Season 2
Tomorrow Tech
Wrong Crystal
LazyTown's Homecoming
Lazy Anime Realm
Driving Class
Queen Valerie
Detective Valerie
Grandfather's Art
Number 9
Training Course
Community content is available under
CC-BY-SA
unless otherwise noted.