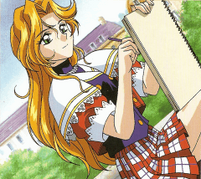 Lesley Lopicana is a heroine of Knight and Staring and Knight and Staring RPG.
Personality (Original)
Dolphan school and enrolled in high school. In a blunt personality, hobby to draw pictures. We are living away from the parents. Although bullish behaved, lonely is nature. There are enormous popularity from junior, also often chide the Laury that yearning their own as sister. The summer vacation and winter holidays and has a part-time job at a coffee shop, it is working in a different tone of voice. Because there are a lot of the time absent parents, there is a thing that has been holding a pale love to maternal uncle to me something care, it is also the influence of his uncle was interested in painting. After graduation cross to Su~izurando to the study of painting. In the CD drama has kept calling the "Ten'nyusei" the Raizze, did not have to call a name until the end.
Personality (RPG)
Unyielding personality. Uncle are yearning (was uncle in previous work). Laury was Kawaigaru as sister. Weapons knuckle. And overwhelm the enemy with powerful melee. Flame magic remember. I love painting, uncle impact of it was also yearning. It's a little difficulty likely relationship seemingly because there is a blunt surface, but only in the roots very caring good friendly girl they've been so in reaction to the lonely, the girl other than Linda is generally we have good chemistry.
Gallery