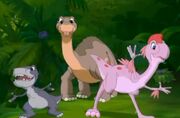 Littlefoot is a longneck and has a crush on all his friends that are female(despite some the females' boyfriends getting mad about it) including Bridgette, Izzy, Gwen, and Courtney.
Before The Dinos Get Sore: When he and Shorty arrived, their father Bron, told them to try their best. When Hyp, Mutt, and Nod arrived, he didn't like it at all. He was glad when he saw that Chomper would be competing. Littlefoot even asked why Guido entered. He was assigned to the Fighting Flatteeth along with Ali, Cera, Chomper, Ducky, Itchy, Myra, Nod, Petrie, Rita, and Tippy.
Volley Battle: Littlefoot didn't like the Treestar Salad Chef made them.
Icy Cold Hearts, Literally: Littlefoot, along with Tippy, Ali, and Chomper were
Big Trouble On Big Waters: He and Chomper
Water We Waiting For: During the bonfire, he, Chomper, Rita, and Rory were telling these scary stories. He confessed to the three that the Sharptooth Slasher stories used to scare him when he was younger.
Obstacle Discourse: He and Ali shared a moment and shyfully walked away with Ali thinking that he knows her love for him.
Cook, Lie, And Sinker: He and Ali shared their
I Triple Dino Dare You: Even though he didn't appear, he was mentioned by Chris.
Community content is available under
CC-BY-SA
unless otherwise noted.