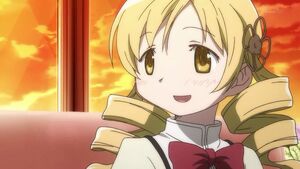 Mami's Choice! is the sixteenth episode of Full Moon's Full Pokemon Journey.
Summary
Characters
Mitsuki
Yui
Mio
Ritsu
Tsumugi
Azusa
Madoka
Ui
Jun
Mami

Pokemon
Pignite (Mitsuki's)
Munchlax (Ritsu's; Drumsticks)
Starly (Ritsu's)
Dewott (Tsumugi's)
Vanillish (Tsumugi's)
Swadloon (Mio's)
Wigglytuff (Yui's)
Gulpin (Yui's; debut)
Clefable (Ui's)
Delcatty (Azusa's)
Meowstic(male) (Madoka's)
Flabebe (Mami's; evolves)
Floette (Mami's; newly evolved; debut)
Florges (fantasy)
Major events
Mami's Flabebe evolves into Floette and learns Grassy Terrain.
Yui is revealed to have caught a Gulpin.
Mio's Swadloon is revealed to have learned Grass Whistle.
Community content is available under
CC-BY-SA
unless otherwise noted.