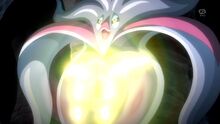 Malamar is Jun's second Pokemon she caught prior to Full Moon's Full Pokemon Journey's second season, she debuted as an Inkay in Be Calm and Snorlax!, and she later evolved into Malamar in "Flipped Out The Inkay!".
As a Malamar, she is really nice to the other Pokemon, and is known to help Jun by using her hypnotic waves to locate lost Pokemon and tracking criminals like Team Rocket.
It was later named "Marmalade" because it sounded a lot like Malamar's name rearranged, thus giving it a nickname.
Marmalade's known moves are: Hypnosis, Psycho Cut, Flamethrower, Superpower, and her ability is Contrary.