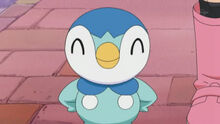 In Once Tried, it was revealed that Piplup was Stacy's starter Pokemon. Piplup's nickname is Peppy. In the Full Moon's Full Pokemon Journey series, she evolved into Prinplup and again into Empoleon prior to "Konoka's Amazing Discovery"
Moves
Bubble
Water Sport
Bubblebeam
Brine
Whirlpool
Hydro Pump
Water Pulse
Rain Dance
Waterfall
Dive
Aqua Ring
Drill Peck
Steel Wing
Surf
Hydro Cannon
Community content is available under
CC-BY-SA
unless otherwise noted.