Phoenix Rye
Gender:
Male
Ally Type:
Royal Club Undead
Season:
Kamen Rider: Spade Warrior
Homeworld:
Earth
First Appearance:
Last Appearance:
Number of Episode Appearances:
Actor:
Tarantula Undead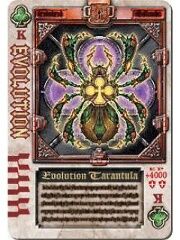 Phoenix Rye is the human form of the Tarantula Undead, the first King (of Clubs) Undead to appear.
Overview
The wisest one of the Undead. Rye is different from the other Royal Club Undeads as he has a good heart & loves humanity. He is also a friend of George Crawford, whom he met in Tibet, who entrusted the Rouse Absorber to him & sent him to oversee Spade Warrior & Diamond Warrior & does his best to stay in human form unless necessary. He has a yellow canary bird named Natural. He helps Andy to relinquish Spider Undead's influence by leaving himself be sealed by Leangle's Blizzard Crush. But his sacrifice was not of much use until Tiger Undead sacrificed herself, allowing Rye to finally lend his power to Andy to help him defeat the Spider Undead. Later unsealed to be resealed by A-Jack's Impact Stab.
Community content is available under
CC-BY-SA
unless otherwise noted.