Project Techron
Genre
Science fiction sitcom
Action-Adventure
Tokusatsu
Format
Teen sitcom
Created by
Reynoman
Starring
TBA
Opening theme
TBA
Ending theme
TBA
Composer(s)
Country of origin
United States
Language(s)
English
No. of seasons
TBA
No. of episodes
TBA
Production
Executive producers(s)
Camera setup
Film; Single-camera
Running time
Production company(s)
Disney XD Original Productions
Broadcast
Original channel
Disney XD
Picture format
Original run
Project Techron (originally called Techron: Bounty Hunter) is a fanfictional American action/comedy series that will air on Disney XD. Like its sister series Mighty Morphin Myth Rangers, it will use unused footage from tokusatsu shows that have been Americanized.
Plot
Set in the future, alien have invaded our planet, plotting world domination. Peter Hogarth, a young survivor of an alien attack, is taken in by members of ELMO, an extraterrestrial government organization working to fight back against the aliens. It is there that Peter volunteers to help fight back, & so they give him high-tech armor & awesome weaponry. Now, Peter is on a quest to fight the aliens & save his planet... as the intergalactic bounty hunter Techron!
Characters
Heroes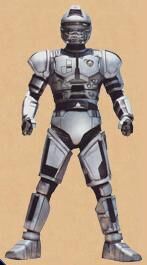 Allies
ELMO
Villains
MegaBeasts
Main article: MegaBeasts
Trivia
The main character is a counterpart of the "V1 System" from Kamen Rider Agito.

Techron first made a few appearances in Mighty Morphin Myth Rangers, in which his costume is worn by Joey Briggs, the second Green Ranger.
Community content is available under
CC-BY-SA
unless otherwise noted.