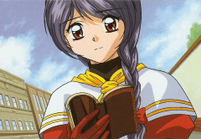 Raizze Haimer is a heroine of Knight and Staring and Knight and Staring RPG.
Personality (Original)
Dolphan High School of female students. Su~izurando born. Without having put so much an expression in the table, it has a no personality of slippery, often corresponding also curt. Do not show a chance to others, always such as not remove the gloves, suspicious surface is noticeable. CD has served as a hero in the drama, I met Sophia and Priscilla in to chase the trend of the "Oriental", a frame of mind in response to her our influence will change. As well as Priscilla, we have had a certain secret, the truth will become apparent by capture her in the main. She won first place in the "blitz PlayStation", "popular vote of Knight character Staring" of magazine.
Personality (RPG)
Silent girl. Behavior, such as if you are aiming at the life of McLeod also show. There is an abnormality in the taste. His hobbies include travel, such as political stories discussions. Favorite thing is victory, strong people, saying. Compatibility with other girls in spite of the difficult impression that intimidating is generally good, also is her only to get along Linda and the only well. There is some reason such as behave the tea in mug of skull mark, "somewhere is wrong" in the First Contact "or a daughter that surprising to you are missing also?" Is also likely to be Fortunately behavior to feel a. Weapons Rapier. I remember a powerful sword and ice magic. Convenient swallow-back to attack a row enemy. She is not me equipped with a swimsuit unless you collect all the costumes. Stubbornly refused to swimsuit in "Knight and Staring", for swimsuit graphics was the only heroine no.
Gallery