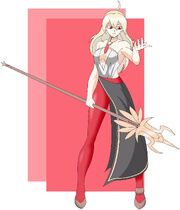 Dad ... looking ... I'll always release Byetta!

—Ravenza
Ravenza (ラヴェンツァ) is the Main Protagonist of the Fan Fiction Novel Legend of Galaxy Dragon and Bahamut Lagoon Type Original Character.
What is Legend of Galaxy Dragon?
This is a Fan Fiction Novel that depicts a story that follows Mystery of "Legend of God Dragon" with Stage as All Space.
Profile
Races: Alien
Gender: Female
Age: 18
Weapon: Spirit Lance
About
Daughter of Captain Theodore of Byetta War Dragon Corps. Following the death of Father Theodore, who was lost to Dark Corps in the Byetta Defense Battle, he will take on Salvation Army, leading the release of Countrys in Planets occupied by Dark Corps and then Crisis in All Space. Weapon is Lance. He has a strong sense of justice and a straight personality. He has a talent for being liked by Dragon, and has taken care of Dragon in general for Captain of Byetta War Dragon Corps. The Trust from Friend is also thick, and the Slider, which is famous for its stiff Head, fully trusts Ravenza from Operation's Drafting / Preparation to Battle's Command, leaving it to Ravenza. Obelia has been appointed Deputy Captain and is in charge of Ship operation, and also performs chores. After the War, go to the grave of Father Theodore.
Story
Space has a number of six Planets, each with its own Environment / Culture. The Equilibrium of the Diors Solar System, centered on these six Planets, is suddenly defeated by the mysterious Boy, who appears to be the "Dark Prince" in Another Dimension, seeking something to destroy. The mysterious Boy led the Dark Corps in a series of Invasions to Planets, leaving only Planet Ertoshan. Planet Ertoshan's Country Byetta is ruled by the descendants of "Dragnar," who once communicated with the Guardian Dragon Bahamut, but their power has now been lost. Byetta fought back, and Theodore, led by Dragon Unit "Byetta War Dragon Corps", took part in the Royal Capital Defense Battle, but lost life with the help of a reluctantly mysterious Boy. Byetta Castle is Fall. King Zeorudo was killed, Princess Fearris was taken away, and Kingdom Army Remnants barely escaped to Frontier Village. Time has passed and the late Theodore's Daughter Ravenza has grown to Age 18, Rally Remnants of Byetta War Dragon Corps, and Rebellion Army has been Formed to Opposition to Dark Corps and appointed as Captain. Rebellion Army fights Dark Corps at the Brange Factory, recaptures the Byetta Flagship, and learns the Legend of God Dragon sleeping on each Planet with Fearris Recapture as he seeks to release Byetta. What is the mystery of the Legend, Mission of Dragnar, and what is the "Promise" exchanged between Alien and Dragon? Ravenza and other Rebellion Army run each Planet Recapture Operation with Fearris.
Material
Reference Appearance
Reference Weapon
Color Palette Change
Tights
Green → Red
Videos
Reference Space and World
Reference Story
External links