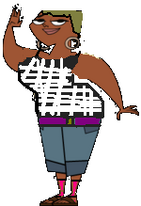 Shaniqua, labeled as The Creepy Girl, is a character in Total Drama Bathroom.
Biography
Shaniqua was born in South Africa to two South African stalker parents. She was always hyper and creepy, and most of the kids at her elementary school were afraid of her. After her parents receiving a call from the principal, her family moved to Italy. The children were STILL afraid of her. Finally, at the age of eleven, her family moved to California, USA. She started doing bad things, such as stalking boys, robbing gas stations, waking up babies, and hiding behind giant flowers. She always rode around on a little kiddie car and wore her signature hot pink socks. She joined Total Drama Bathroom so she could drown herself in money.
Community content is available under
CC-BY-SA
unless otherwise noted.