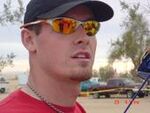 Shawn Perry was born in Yonkers, New York in 1984. Through his life he was the class clown and the envy of the girls at his schools. He as well like his sister Alexis, learned martial arts. He loves working on automobiles and by his teen years, became a stunt junkie. He began skateboarding at 11 and is nearly a professional now. After taking many car classes, he worked for an auto repair shop in which he soon opened his own which did auto customization. At age 21, Shawn discovered his sister's secret, she was a slayer. Shawn tried helping out the slayers but soon was caught up by vampires and turned. Luckily, Willow returned his soul and Shawn, like Spike and Angel, helped the slayers fight evil. He also after befriending Faith, started to go out with her and they soon began dating.
Community content is available under
CC-BY-SA
unless otherwise noted.