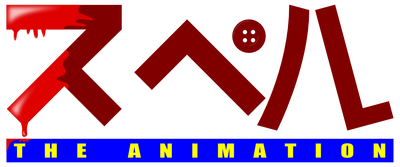 Spell: THE ANIMATION (スペル THE ANIMATION, Superu ji Animēshōn) is a horror fanfic anime film retelling of the film Drag Me to Hell (known as "Spell" in Japan) by LDEJRuff.
Summary
A young woman named Kaoru Amane (雨音薫, Amane Kaoru) works as a loan officer for a bank. When she refuses to extend an old woman's mortgage, said old woman curses her, saying that in three days' time, she will die. Can she and her boyfriend, Mamoru Sakai (坂井守, Sakai Mamoru) find a way to lift the curse in time before her time is up? Or will the demons haunt her in her final days?
Plot
The film begins forty years ago, in Germany, where a woman comes to the aid of a medium, saying that her husband, Hans, has been hearing demonic voices for the past three nights. The medium begins a séance for Hans, but it is soon interrupted when a Shinigami attacks his wife and the medium, and chants a few words spoken in German while pointing at Hans. Soon, the floor breaks around Hans, and he is grabbed by a dark hand that sends him to the fiery abyss of Hell below. After the floor pulls itself together, the Shinigami disappears, and the now-widowed woman is crying, the medium vows that they will meet again...
In the present, a young woman, Kaoru Amane, works as a bank loan officer, hoping for a promotion. Her boss, Taro Kamiya, advises her to demonstrate tough decisions to make that promotion. She is soon visited by an old woman who asks her to extend her mortgage. However, Kaoru decides to decline the extension. The old woman begs Kaoru bizarrely, but she backs away. She calls security to take the old woman away. As the guards take her, she blames Kaoru for "shaming" her. Mr. Kamiya congratulates her for handling the situation.
As Kaoru is about to go to her car after her daily shift has ended, the old woman confronts her at the parking lot, and curses her in German as revenge for denying her mortgage extension.
Community content is available under
CC-BY-SA
unless otherwise noted.