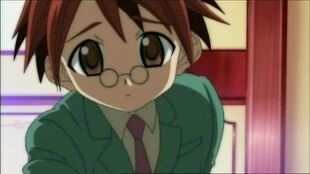 Springfield Into Action! is the seventh episode of Full Moon's Full Pokemon Journey.
Summary
The group meet a kid who is 10 years old and reveals himself as Negi Springfield, alongside with 31 classmate girls, a shiny Gardevoir who has the ability to talk via telepathy can mega evolve under the ownership of Nodoka Miyazaki, a very shy and a smart clever bookworm decides to join the group alongside Negi and 31 other girls, but will they succeed on what they can do?
Characters
Mitsuki
Yui
Mio
Ritsu
Tsumugi
Azusa
Madoka
Ui
Jun
Negi Springfield (debut)
Chamo (debut)
Shichimi (debut)
Motsu (debut)
Sayo (debut)
Yuna (debut)
Kazumi (debut)
Yue (debut)
Ako (debut)
Akira (debut)
Kakizaki (debut)
Asuna (debut)
Kasuga (debut)
Chachamaru (debut)
Madoka (Negima) (debut)
Fei Ku (debut)
Konoka (debut)
Haruna (debut)
Setsuna (debut)
Makie (debut)
Sakurako (debut)
Mana (debut)
Lingshen (debut)
Kaede (debut)
Chizuru (debut)
Fuka (debut)
Fumika (debut)
Satomi (debut)
Chisame/Chiu Chiu (debut)
Evangeline (debut)
Nodoka Miyazaki (debut)
Natsumi (debut)
Ayaka (debut)
Satsuki (debut)
Zazie (debut)
Nakane (debut)
Anya (debut)

Pokemon
Lunatone (Mitsuki's)
Tepig (Mitsuki's)
Gardevoir (Nodoka's; Shiny; Mega Gardevoir)
Gallade (Negi's; Mega Gallade)
Furret (Negi's)
Munchlax (Ritsu's; Drumsticks)
Starly (Ritsu's)
Dewott (Tsumugi's)
Vanillite (Tsumugi's)
Ralts (Mio's)
Pidove (Mio's)
Sewaddle (Mio's)
Goodra (Yui's)
Jigglypuff (Yui's)
Clefairy (Ui's)
Lillipup (Jun's; evolves)
Herdier (Jun's; newly evolved)
Gallery Pictures
Community content is available under
CC-BY-SA
unless otherwise noted.