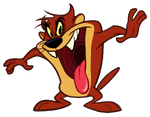 The Tasmanian Devil, often referred to as Taz, is an animated cartoon character featured in the Warner Bros. Looney Tunes series of cartoons. The character appeared in only five shorts before Warner Bros. Animation closed down in 1964, but marketing and television appearances later propelled the character to new popularity in the 1990s.
History
Taz first appeared in the Looney Tunes short Devil May Hare (which stared Bugs Bunny) on June 19, 1954. The short also debuted a female love interest for Taz. Robert McKimson (Taz's creator) would go on to direct four more Tasmanian Devil cartoons, beginning with Bedeviled Rabbit (released on April 13, 1957). The she-devil returns in this cartoon, now as Mrs. Tasmanian Devil, but Taz's attraction for the female of his species is again exploited by Bugs when he uses a sexy female-devil costume to deliver some explosives to him. McKimson would also pair the Devil with Daffy Duck in Ducking the Devil (August 17, 1957) before pitting him once again against Bugs in Bill of Hare (June 9, 1962) and Dr. Devil and Mr. Hare (March 28, 1964). His final appearance done by the classic Warner Brothers directors, writers, and voice actors was in Bugs Bunny's Looney Christmas Tales appearing in The Fright Before Christmas segment and at the very end eating the sleigh full of presents.
Personality
As the youngest of the Looney Tunes, Taz is generally portrayed as a dim-witted teenager-type with a notoriously short temper and little patience. He will eat anything and everything, with an appetite that seems to know no bounds. He is best known for his speech consisting mostly of grunts, growls and rasps, and his ability to spin and bite through just about anything.
In 1991, Taz got his own show, Taz-Mania, which ran for three seasons, in which he was the protagonist. He was shown to be unusual among his family for his wild behaviour. Though being the oldest of three children, he appeared to be the least intelligent, and was generally treated by his family as having a developmental disability. Despite this, Taz can read and write, play computer games, and is capable of maintaining hobbies such as the collection of bottle caps and comic books.
Although the show Taz-Mania has ceased its reruns, this is still the most popular interpretation of Taz, and he is portrayed regularly as alternately hero and villain in his more recent appearances. He is often portrayed as being too dimwitted to fool with clever traps, but too strong to capture with conventional traps.
External links
Community content is available under
CC-BY-SA
unless otherwise noted.