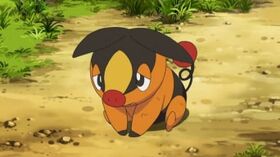 Tepig, on the Loose! is the third episode of Full Moon's Full Pokemon Journey.
Summary
The Tepig from Professor Juniper's lab escapes because it wasn't chosen. After Mitsuki and the group are informed about this, they head out to Route 1. Mitsuki finds it and tries to get it to come back to the lab, but it wouldn't do so without a battle. After Lunatone wins against Tepig, Mitsuki brings Tepig back to the lab. However, Tepig seems to have grown a liking to Mitsuki, so Professor Juniper decides to let her keep it and gives her its Pokeball. Madoka also appears and asks to accompany the others on their journey. With that matter out of the way, Mitsuki, Yui, Mio, Ritsu, Tsumugi, Azusa, and Madoka finally begin their Pokemon journey.
Characters
Mitsuki
Yui
Mio
Ritsu
Tsumugi
Azusa
Prof. Juniper
Madoka
Pokemon
Lunatone (Mitsuki's)
Tepig (Mitsuki's; new; debut)
Oshawott (Tsumugi's; evolves)
Dewott (Tsumugi's; newly evolved)
Espurr (Madoka's; debut)
Starly (Ritsu's)
Delcatty (Azusa's)
Major events
Tsumugi's Oshawott evolves into Dewott
Madoka catches an Espurr
Mitsuki obtains a Tepig
Azusa, Yui, Ritsu, Mio, Tsumugi and Madoka all join the group.
Community content is available under
CC-BY-SA
unless otherwise noted.