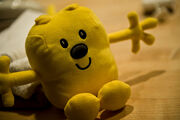 The Backyardigans movie is a Summer 2013 movie rated 13+ due to violence and swearing. Like Men in Black, the movie focuses on Agent Secret ( Pablo.), who is on the case to stop The Lady in Pink ( Uniqua.) from using her new Crystalizer Ray across the world, making it incredibly freezing. Tyrone, Tasha, and Austin are also in the movie, along with other Nick Jr. stars. The movie is not animated, although the flashbacks in the movie are.
Plot
After catching three bank robbers, Pablo, aka Agent Secret, goes to Ms. T, aka Tasha. They both find out that The Lady in Pink, aka Uniqua, is planning to freeze the world with 5 new henchman, including Wow Wow Wubzy and Team Umizoomi. Pablo, along with Austin, set out to stop this evil threat and save humanity, having romance along the way.
Characters and Voices
Pablo- Simon Cowell
Tyrone- Richard Horvitz
Uniqua- Kathleen Turner
Tasha- Taylor Swift
Austin- Jack McBrayer
Milli- Madeleine Rose Yen
Geo- Ethan Kempner
Bot- Donovan Patton
Wow Wow Wubbzy- Billy Crystal
Blue- Tress Macnillie
Director of S.P.Y.- Patrick Warburton
S.P.Y. Agents- Mike Tyson, O.J. Simpson, and Chris Rock
Citizens of London, etc.- Random Actors
Ice- Zilla- Unknown Actor
Old Man Whiskers- Larry King
Ice-Zilla clones- Unknown actors and actress'
Robbers- Ben Stiller, Jeremy Renner, Robert Downey Jr.
Songs and themes
Backyardigans Dubstep/ Rock theme
Mission Impossible
The TRUE Recipe for Disaster
Smooth Drivin' by the Beach
Past of the Lady In Pink
R.I.P. Old Man Whiskers
Team Killerzoomi
Pow Pow Wubbzy
Battle for the Keys
Flashbacks
Romantic Sunset
Always Expect the Unexpected
Ice-Zilla Attacks!
Ice-Zilla Returns!
Death of Lady In Pink
R.I.P. Old Man Whiskers ( Reprise)
Medal of Glory
Ending/ Heart Lake Beach
Quotes
More Coming Soon!