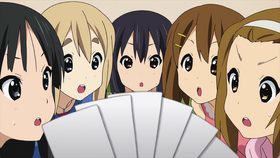 The Light Music Pactio Club! is the eleventh episode of Full Moon's Full Pokemon Journey.
Summary
After joining alongside Mitsuki, Chamo suggested The Light Music Club to do a pactio, but both Mio and Azusa get flustered and embarrassed. Will Negi convince Azusa and Mio to make a pactio with him?
Characters
Mitsuki
Yui
Mio
Ritsu
Tsumugi
Azusa
Madoka
Ui
Jun
Negi Springfield
Chamo
Shichimi (cameo)
Motsu (cameo)
Sawako (mentioned)
Pokemon
Lunatone (Mitsuki's)
Tepig (Mitsuki's)
Gardevoir (Nodoka's; Shiny)
Gallade (Negi's)
Munchlax (Ritsu's; Drumsticks)
Starly (Ritsu's)
Dewott (Tsumugi's)
Vanillite (Tsumugi's)
Ralts (Mio's)
Jigglypuff (Yui's)
Clefairy (Ui's)
Herdier (Jun's)
Eevee (Yui's; debut)
Eevee (Tsumugi's; debut)
Eevee (Ritsu's; debut; evolves)
Flareon (Ritsu's; newly evolved)
Eevee (Mio's; debut)
Eevee (Ui's; debut)
Eevee (Jun's; debut)
Sylveon (Azusa's)
Jolteon (Sawako's; mentioned)
Major events
Azusa starts calling Mitsuki: "Mitsuki-senpai"
Ritsu, Mio, Mugi, Yui, Azusa, Ui and Jun all make a pactio with Negi.
Negi invokes their contracts for the first time, resulting them all getting Rare Cards in the process.
The rest of the Light Music club is revealed to have caught an Eevee each, and mentions that Sawako has a Jolteon.
Ritsu's Eevee evolves into Flareon and learns Flamethrower.
Community content is available under
CC-BY-SA
unless otherwise noted.