The Orb of Time is a four-part Family Guy fanfic by LDEJRuff and the movie finale of the first season of his Brian and Vinny fanseries.
Summary
SPOILER ALERT:
When an old foe of Stewie's steals the Orb of Time from Heaven and rewrites history to a time in which New Brian dies and Vinny's owner Leo still lives, it's up to Brian and Stewie to recruit some reinforcements, and to revive a couple dogs related to the Griffin family, to retrieve the Orb and bring time back to the way it was.
Links to the fanfic
Trivia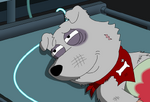 A couple scenes rewritten are edited from FG1206 - "Life of Brian", but are edited to have New Brian die instead of Brian.