(Mung Daal and Dukey has been Total Drama)
Video:Total Drama Dead Eliminations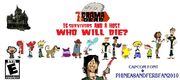 This is By:
Phineasandferbfan2010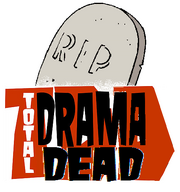 When you lose...
You get killed by a killer.
15 Survivors
Ed (TD)
Edd (TD)
Eddy (TD)
Nazz
Kevin
Courtney
Duncan
Johnny Test
Dukey' (TD)
Susan Test
Mary Test
Chowder
Flapjack
Mung Daal (TD)
K'nuckles
(P.S. There will be no teams)
Episodes (Including Elimanation)
Welcome to the House of Dead (DOUBLE Eliminated:Chowder and Ed=Because they eat all the food)
Night of the Thrilling Dead (Eliminated:Dukey=Because he's the DOG!)
Blood Science (Eliminated:Mary Test=Because she hates BLOODY Science!)
Finding Skull (Eliminated:Mung Daal=Because he can't find the skull)
Blood is Sweet (Eliminated:K'nuckles=Because he drinks alot of blood pool)
Haunted Castle is HERE (DOUBLE Eliminated:Flapjack and Johnny Test=Because Flapjack quit (for his pal, K'nuckles killed) and Johnny Test scared)
3 survivors killing action! (TRIPLE Eliminated:Courtney, Edd and Eddy=UNKNOWN)
Final 3 Freedom (Double Eliminated:Duncan and Kevin)
Battle:Final 2! (Winner:Susan Test, Runner-Up/Eliminated:Nazz (She not killed!) and the killer is CHEF?!?!?!)
Community content is available under
CC-BY-SA
unless otherwise noted.